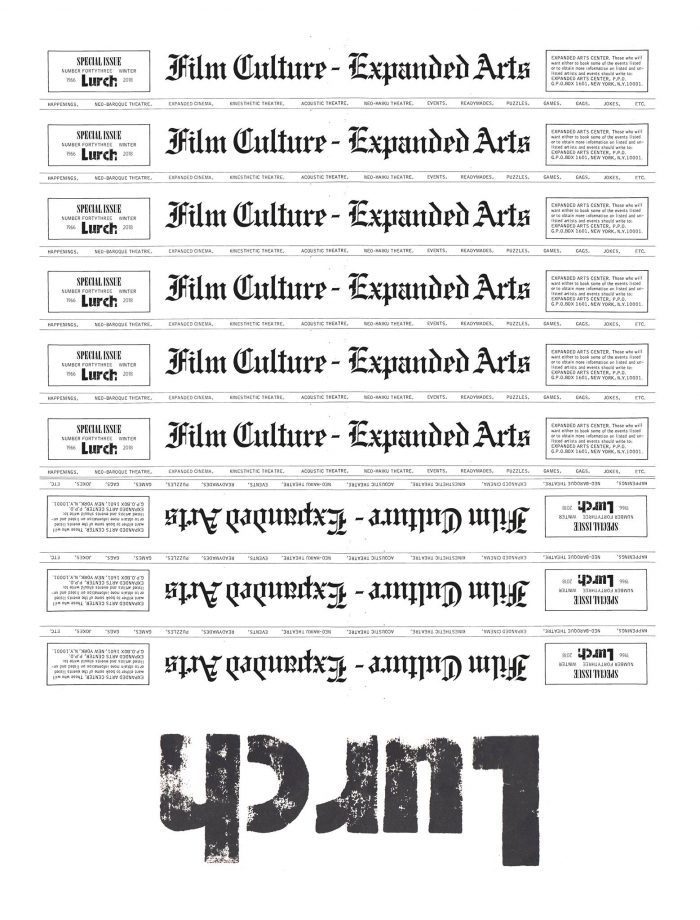 Opening: 14.12.2018, 7 pm
Lurch: The Expanded Issue. David Quigley, Stephen Mathewson
We returned to the legendary "Expanded Arts Issue" of Film Culture from 1966 designed by George Maciunas and edited by Jonas Mekas for three reasons:
1. To celebrate its subtle beauty and historical significance
2. To rethink its historical and theoretical background
3. To reintroduce this historical context into the present and by doing this reassess what we are doing now, to begin to design, following George Maciunas's impetus, a new genealogy for our own practice.
The latest issue of LURCH is part of an expanded lecture series that was first presented together with the facsimile of the magazine Film Culture No.43, Winter 1966 at the exhibition The Remains of Cinema (10/02/2018 — 22/04/2018) curated by Norbert Pfaffenbichler and Sandro Droschl at Künstlerhaus, Halle für Kunst & Medien, Graz.
"Lurch" in Viennese dialect is the name for the little figures made of dust, hair and various other household detritus that form in spaces beyond broom or vacuum. In German it is the name of an amphibian reptile. In English lurch implies a sudden motion, pitching, staggering, tilting, wobbling. . . and is also the name of the butler in the Adam's Family.
Lurch derives its name from all of these contexts.