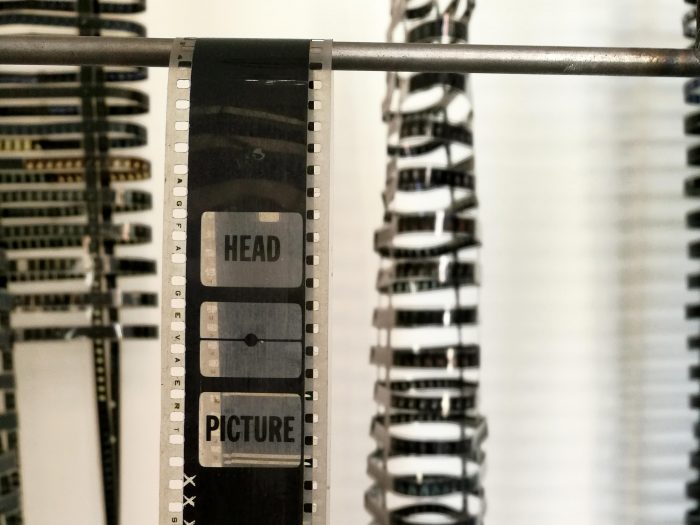 We are pleased to invite you to the opening of the exhibition by the Romanian artist Olivia Mihaltianu on Friday, October 12, 2018, 7pm.
The opening takes place within the framework of the Independent Space Index festival (October 11–13) .
The film installation Rewind at Hoast by Olivia Mihaltianu is based on various attempts, of her continuous trials and errors processes of manipulating film in ways that are touching aspects like fashion, culinary, society and nature, among others, in works such as: Robe de soirée (1996), Film métrage (2015), Spaghetti Loop (2016), Tailler la robe selon le drap / Cutting the Coat According the Cloth (2018).
The project is going back and forth between analogue and digital processes in endless attempts of reediting discarded or exhausted film material in a process that goes beyond cinematic and optic aspects of the film footage, entering another level of representation which keeps the information intact as it adds another layer of understanding and visualization.
Film métrage, the generic title of this series of works developed in the last two decades, is referring to the physical body of the film material, as well as to the immaterial aspect of the moving image and the appetite of our society for producing endless supply of footage and imagery. It is looking into the historic elements of the cinematography, combining professional with amateur standards and productions (35mm, 16mm, super8 and 8mm) as well as new technologies, by manipulating them in endless forms and modalities of reconfiguration, projection loops, mix-media installations objects and other artistic productions.
Olivia Mihaltianu (b. 1981) studied visual arts at the University of Arts Bucharest and she currently lives and works in Bucharest.
For the past decade, Olivia Mihaltianu has developed long-term conceptual projects referring to themes such as nowadays image consumption, self-expression or power-shifts in various social political contexts. Her artistic approach is related to cross-media and process-oriented projects involving video, film, photography, object-making, installation and performance.
https://ancapoterasu.com/gallery-artists/olivia-mihaltianu/
supported by the Austrian Cultural forum Bukarest